These Coconut and Raspberry Banana Muffins are healthy and delicious. The bread like texture is spongy, soft and works well with the overly ripe bananas together with the coconut and bursting raspberry flavour.  You can substitute some of the ingredients if you prefer to do so.  Mixing of the ingredients is super easy without the need of an electric mixer while the baking time is only about 20 mins.  Definitely a great tea time snack!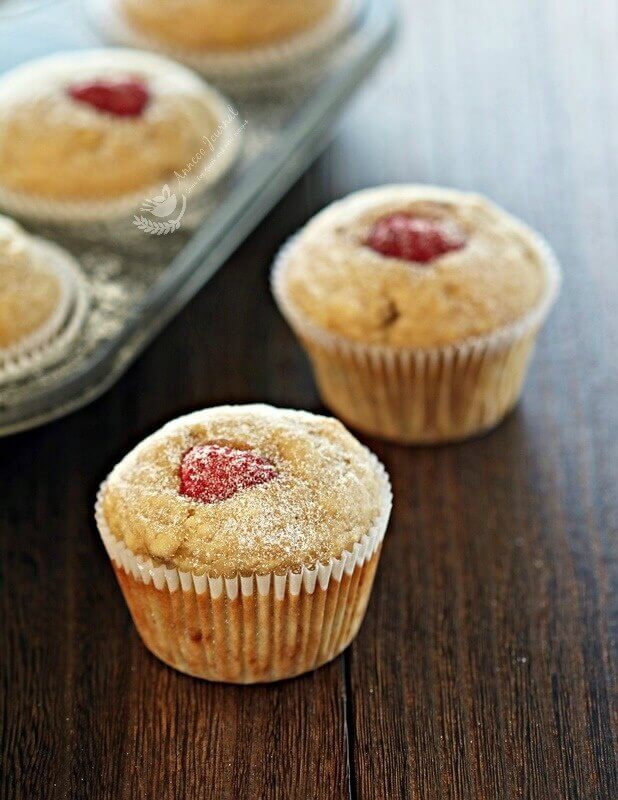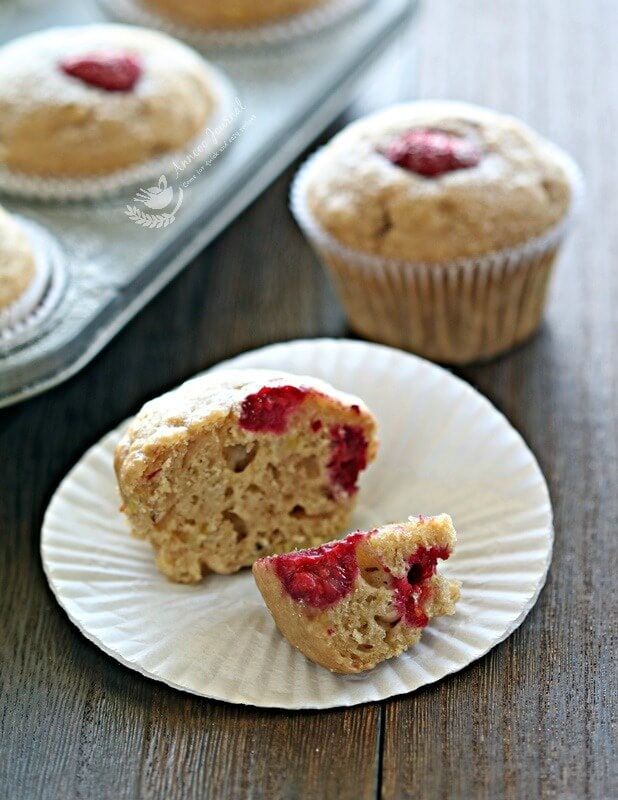 Coconut and Raspberry Banana Muffins
Preheat oven to 190 deg C.

Sift flour and baking soda into a large bowl. Stir in sugar and make a well.

Whisk egg, oil and vanilla extract together. Add to flour mixture, followed by coconut milk and banana. Stir to just combined and fold in the raspberries.

Divide mixture evenly into 6 muffin cups and top with raspberries.

Bake for about 20 minutes until golden or skewer inserted into cake comes out clean. Leave muffins to cool and dust with some icing sugar.
Recipe Notes
Please keep in mind that all ovens temperature and baking time varies.
Recipe adapted from here
椰香覆盆子香蕉玛芬
材料:
145克 自发面粉

1/8茶匙苏打粉

60克 原蔗黑糖或赤糖

1个 大鸡蛋

3汤匙 椰油或橄榄油 (玉米油也可以)

1/2茶匙 香草香精

85毫升 椰浆或鲜奶

150克 熟透的香蕉,压烂

55克 覆盆子或用蓝莓
做法:
预热烤箱至摄氏190度。

面粉和

苏打粉一起过筛到大碗里。拌入黑糖,混合均匀;中间挖个洞。

将鸡蛋,油和香草香精一起搅拌均匀后倒入面粉中,接着加入椰浆和香蕉,翻拌均匀。最后拌入

覆盆子。

将混合物平均舀入6个玛芬纸杯里,表层加上覆盆子。

送进预热烤箱烤约20分钟或

竹签扎人蛋糕内部不沾黏就可以了。待凉后撒上适量的糖分即可享用。
**烤箱温度和烘烤时间务必根据自家烤箱来定
Enjoy and have a wonderful week ahead!
**************