I like Spring Onion Pancake (葱油饼
cong you bing
) and it is always a must have whenever we have Chinese dim sum in the restaurant. And just recently when I saw this easy recipe shared by
君之
,I immediately wanted to try it out. What you need to buy is the spring onion (scallion) from the market while I'm sure most of the other ingredients are easily available in your pantry. Preparing these pancakes is easy and it's not time consuming. The pancakes that I made were thin and crispy and they can be even dipped into hot coffee or curry sauce like roti prata!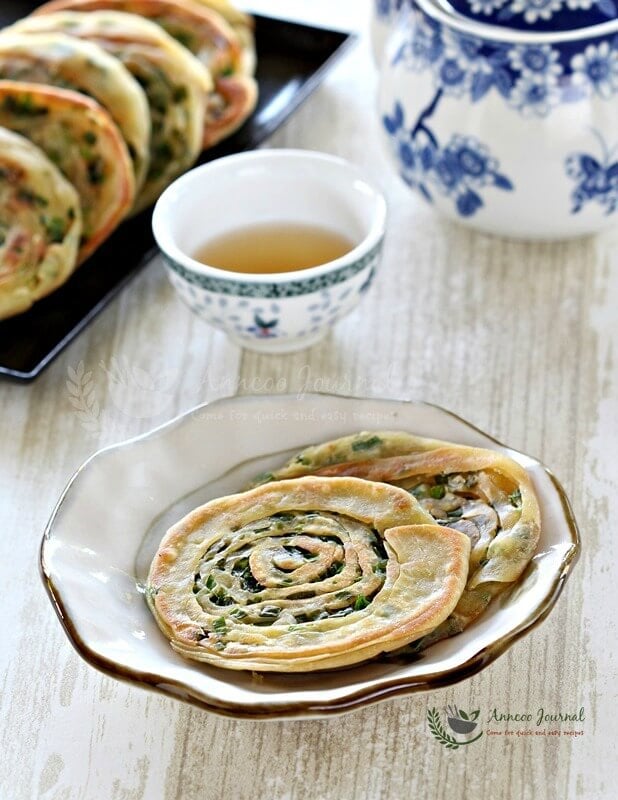 Spring Onion Pancake
Sift plain flour, baking soda and salt into a large bowl, Add egg and water - little by little and knead to a smooth soft dough until it's not sticky to your hands (dust a little more flour if needed). Cover with cling wrap and let it rest for 30 minutes.

Spread some vegetable oil on work top. Place dough and gently roll into a rectangle size, as thin as possible. Spread sesame oil on dough evenly and sprinkle spring onion.

Roll up into tube form. Cut into 8 equal sizes (I cut into 12 as I prefer a thinner crispy pancake), rest for another 15 minutes.

Place the tube right up and flatten with your palm. Then gently roll with a rolling pin into about 3 inches round flat disc.

Heat up a non-stick pan at medium heat with little oil. Pan fry each side until golden brown, about 1-2 minute per side.
香煎葱油饼
材料:
200克 普通面粉

15克 鸡蛋,大撒, 约1.5汤匙

110克 水 (用了100克)

1/2茶匙 泡打粉

4克 盐 (用了3/4茶匙)

20克 芝麻油 (用了15克)

60可 小葱,切成碎末

植物油适量
 做法:
将面粉,泡打粉和盐一起萨入到大碗里,加入鸡蛋液。慢慢倒入水,混合揉成一个光滑软面团 ,面团不粘手就可以了。(面团太黏的话,可以撒入少许面粉)。然后盖上保鲜纸,松弛30分钟。

在案板上涂抹一层植物油防粘。将松弛好的面团放在案板上擀开。

一直擀成一个非常大非常薄的长放型面团。在面团倒入香油,用手抹开,使香油均匀涂抹在整个面团上。均匀撒满葱末。

从面团的一端卷起,卷成一个长条。切成8份 (比较喜欢薄片脆皮,所以我切了12份),静置松弛15分钟。

取一个静置好的小面团,切面朝上立在涂了油的案板上,用手掌压扁。再用面团杖擀开为约3寸圆饼状。

加入少许食油在不粘锅中,用中火将葱油饼煎(一面煎约1-2分钟)至两面金黄色即可享用。
食谱来自君之
For more detail of the recipe, please click here