Tuna Potato Salad with Wasabi Dressing 吞拿鱼马铃薯沙拉
I love the versatile potatoes that can be cooked in many ways. I made this refreshing Tuna Potato salad and added wasabi dressing to give an extra kick. It is very easy to combine the few ingredients together with the cooked potatoes and I just tossed them with the wasabi dressing.  Serve as a perfect side dish or a satisfying stand-alone dish.
Tuna Potato Salad with Wasabi Dressing
Ingredients
500g Mini potatoes
1 can Tuna (chunk in mineral water),drained and flaked
10-15 pcs Cherry tomatoes, halved
100 - 200g Baby spinach or lettuce, rinse and drain

Wasabi dressing

150g Mayo
½ tbsp Wasabi paste, or to your taste
2-3 tsp Lemon juice
1 tbsp Olive oil or a little more if you find the dressing is still too thick
Instructions
Mix the wasabi dressing ingredients together in a bowl and chill in the fridge until ready to serve.
Wash potatoes and peel skin. Boil potatoes (with a pinch of salt) until just tender for about 15-20 minutes. Drain and cool immediately under cold water.
Cut potato into quarters and place in a large bowl. Add tuna and tomatoes with a dash of pepper and salt to taste. Pour in wasabi dressing over potato and tuna mixture and toss well. Serve over field greens.
吞拿鱼马铃薯沙拉 (山葵酱)
简单的马铃薯食材配搭日本青芥茉非常开胃可口,可以当配菜也可以当主菜吃
材料:
500克 迷你马铃薯
1罐 吞拿鱼,滤干 水份,插散
10-15粒 小番茄,切半
 100-200克 沙拉菜,洗净
山葵酱 (日本青芥茉)
150克 美奶丝
1/2 汤匙 山葵或适量
2-3茶匙 柠檬汁
1汤匙 橄榄油,可多加如酱料太稠
做法:
把山葵酱料混合均匀。放进冰箱冷藏,备用。
马铃薯洗净去皮。放入沸水中(加入少许盐)煮熟约10-15分钟。用冷水冲洗后切块。
将马铃薯,吞拿鱼及番茄拌入一个大碗里,撒上适量的盐,胡椒粉和山葵酱,拌均匀即可。盘底铺些沙拉菜,然后放上马铃薯料即可享用。
**简单的马铃薯食材配搭日本青芥茉非常开胃可口,可以当配菜也可以当主菜吃。
This post is linked to the event, Little Thumbs up organised by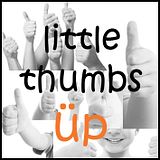 *******